Are you looking to borrow money but have little chance of being approved for a personal loan? You may want to consider getting a title loan in Ohio! Online title loans from GoTitleLend are secured loans where the borrower uses their vehicle title as collateral. This equity gives a lender security in knowing they have your car as collateral in the case of a loan default, and that means they can offer higher loan amounts and approve people who otherwise would be denied for unsecured loans.
Online title loans typically have shorter repayment terms than unsecured loans, and the interest rates are usually higher. However, they can be a good option for those who need money fast and don't have good credit. The main difference between the two is that you're using your car's equity to fund a title loan, while an unsecured lender has no collateral backing up the amount they lend out. Both of these financing options are available in Ohio, and it may turn out that secured loans are best for you once you understand how they work and what's required!
Car Title Loan Rates And Terms In Ohio
In Ohio, the maximum loan amount for vehicle title loans depends on the car's current resale value as well as how much money you can afford to pay back each month. Every lender will first want to assess your ability to repay the loan before approving you for financing. On average, you can expect to see a funding amount of around $800 for first time applicants. These amounts can fluctuate between $1,000 and $15,000, and you can estimate your funding amount by first determining your vehicle's resale value in Ohio. Expect a loan offer of 40% to 60% of the car's equity with a title loan online!
The typical title loan in Ohio has a repayment term of 8 – 24 months, but some lenders may offer longer terms depending on your needs. The interest rates on title loans range from around 25% to 75%, so it's important to shop around and compare rates before taking out a loan.
How To Qualify For Title Loans In Ohio – What Do I Need To Get Cash
To qualify, you'll need to have the pink slip for your car and be sure it's completely paid off. This means that there can't be judgments or other loans against the title. You'll also need to show you live within the state, can afford the expected monthly payments, and have a valid driver's license or another form of ID. Some lenders may require full coverage auto insurance and an updated copy of your vehicle's registration to qualify for a loan.
Once you've been approved for a title loan, the lender will place a lien on your vehicle title and you'll keep driving your car while making monthly payments on the loan. Once the loan is paid off, the lien will be removed from your title.
The most important step you need to determine when you first apply is how you want to get started. Do you prefer doing everything entirely online, or would you feel more comfortable applying with a company in Dayton or Cleveland that's close to you and offers quick financing? Either option is ok and you can't go wrong with applying online or directly with a lender near you. But we recommend taking some time and first looking at the options and what you feel is best for your situation.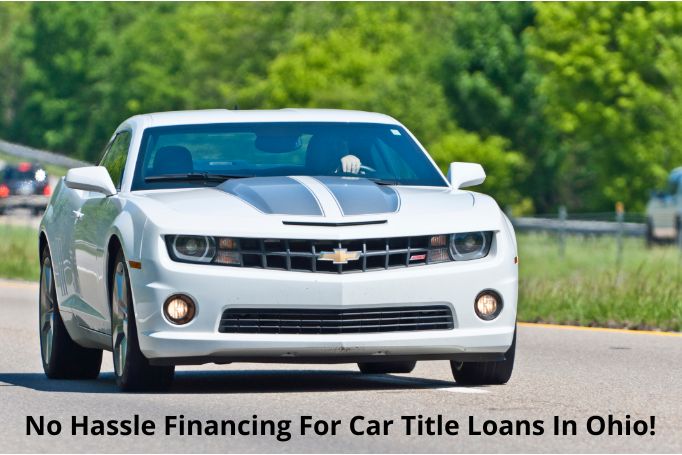 Car Title Loans In Ohio With A Poor Credit Score
The best part about car title loans is that most people can qualify for fast funding even with bad credit. This is unheard of when compared to personal loans and bank loans, which almost always require an excellent credit score. The reason for this is simple. Car title loans are secured by your vehicle, which is used as collateral. This means that the lender has a way to recoup their losses if you default on the loan.
It doesn't matter if you're dealing with poor credit or no credit at all. Same day title loans in Columbus can be a convenient way to get emergency cash as they're quick to fund and underwriters may not even check credit! Apply now and see how much money you could qualify for in just minutes. We're here to help get you the cash you need fast!
Do I Need To Get My Vehicle Inspected To Qualify For Ohio Title Loans
In nearly every situation, you will have to go through a short vehicle inspection as the last step before getting your cash. The lender wants to know if your car exists and also needs to check it for damage or other problems that can affect the current value. The inspection process is easy in Ohio as you can simply drive your car to the lender's location or in some cases, they will come to you. The entire process only takes a few minutes and doesn't cost anything.
Some companies in Ohio will allow you to submit pictures or videos of the vehicle in extreme cases if you can't arrange an inspection. These exceptions are rare and only allowed if the vehicle is out of state or if you live in an area that's not easily accessible. When submitting videos or images of the car, you need to make sure they are clear and show both the front and back of the vehicle, inside and out. For videos, be sure they show the car starting up and take full note of how the car runs and performs.
Can I Get A Title Loan If My Car Is Paid Off
Yes, you can definitely get a title loan if your car is paid off! In fact, most people who take out title loans have paid off their vehicles. This is because title loans are typically for smaller amounts of money and are repaid over a shorter period of time than traditional auto loans. On the flip side of this question, you probably won't qualify for instant cash if there are still payments due on the vehicle loan. Equity lending companies in Cincinnati don't want to offer equity loans for people that still owe money to their original lender. There may be some exceptions if you only owe a small amount, but you will probably be limited in how much money you can borrow.
What Are The Main Benefits And Drawbacks Of Ohio Title Loans
It's easy to say that there are just as many drawbacks to title loans as there are benefits. For instance, someone looking for a car title loan in Cleveland must be aware of what happens if they default on the loan or fail to pay back the full amount borrowed. Evaluate the risks and rewards that come with secured equity loans and make an informed decision when you have all the information. The main benefits are that they're fast, easy to qualify for, and you don't need good credit to get approved. The main drawbacks are that these loans are expensive, there's a risk of vehicle repossession if you can't repay the loan, and companies often target struggling people.
As you can see, there are pros and cons to title loans in Ohio. It's up to you to decide if the benefits outweigh the risks when you need cash quickly in Cincinnati. Weigh your options and make the best decision for your unique financial situation! Contact our team at GoTitleLend when you're ready to see how much equity is available in your vehicle! We can process and underwrite your title loan application very quickly, and we'll do our best to get your same day cash with an Ohio title loan!